Royal Opera As Live: LA TRAVIATA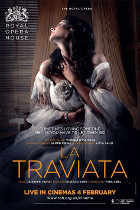 Release Date
Tue 5th February
12A
Run Time
215
Showtimes for Cinemac, Macclesfield :
Synopsis
Showing As Live on 5 February from recording on 30 January

Richard Eyre's beautiful production provides the perfect setting for Verdi's opera about a courtesan who sacrfices all for love.

Music: Giuseppe Verdi Director: Richard Eyre Conductor: Antonello Manacorda

Violetta Valery: Ermonela Jaho Alfredo Germont: Charles Castronovo Giorgio Germont: Placido Domingo

From the thrill of unexpected romance to a heartbreaking reconciliation that comes too late - Verdi's La Traviata is one of the most populkar of all operas. Alfredo falls in love with the courtesan Violetta in glamorous Paris society, but underneath the surface run darker undercurrents, leading to a tragic ending. The opera's wealth of melodies includes the famous Brindisi and the exuberant 'Sempre libera' - both showing the lyricism of Italian opera at its most immediately appealing. Richard Eyre's production for the Royal Opera brings out all the emotional colour, from the giddy discovery of love, through painful confrontation to the inevitable conclusion. Lavish period sets and costumes enhance the reality of a moving story based on true life.

Approximate runningg time: 3 hours 35 minutes, including two intervals

Sung in Italian with English surtitles