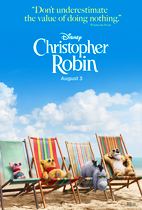 Overworked and disillusioned with adult life, Christopher Robin (McGregor) is a world away from his idyllic childhood spent with a simple-minded, honey-loving stuffed bear and his friends. But a chance encounter with Winnie-the-Pooh (Cummings), now tattered after years of hugs and play, reminds him of the days of wonder and makebelieve that defined his youth. After a mishap with Christopher Robin's briefcase, Pooh and the rest of the gang, including Piglet, Eeyore and Tigger, step out of the Hundred Acre Wood and into London to return a few crucial possessions to their old friend – and help him enjoy life again.
14:30
PERFORMANCE DETAILS
Tue 21st August
Cinema Name:Cinemac, Macclesfield
Screen:Cinema Screen
Certificate:
Start Time:14:30
Running Time: mins.
Approx End Time:14:40
2D / 3D:3D
Subtitled:N
Wheelchair Access:Y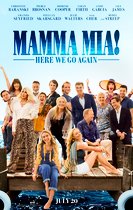 On the beautiful Greek island of Kalokairi, Sophie is awaiting the arrival of her first baby, as well as running her mother's villa. Worried that she can't do it all single-handed, Sophie turns to her mother's friends Tanya and Rosie for assurance, help and guidance. The cast includes: Meryl Streep, Pierce Brosnan, Colin Firth, Stellan Skarsglrd, Julie Walters, Dominic Cooper, Amanda Seyfried, Christine Baranski, Lily James, Josh Dylan, Hugh Skinner, Jeremy Irvine, Alexa Davies, Jessica Keenan Wynn, Andy Garcia and Cher.